Maybe you own an Aston Martin or you are planning to buy one, or sell one whatever the case may be an Aston Martin VIN check is the surest route to unlocking the detailed vehicle history of any Aston Martin model. 
From the river Thames to castles, this elegant luxury brand is simply outstanding, perhaps you were among those who came to know about this vehicle due to its predominant use in the James Bond movie series, no doubt it is a beauty to behold. 
Aston Martin was founded in 1913 by Lionel Martin and Robert Bamford, before they started Aston Martin they were business partners licensed to Singer cars in Callow Street London. Lionel Martin was deeply involved in car races at Aston Hill which was close to Clinton Hill, this pair was driven by enthusiasm as they seek to produce a vehicle that will meet their custom needs, and this led to the birth of what will become a legendary brand in the automotive industry: the Aston Martin luxury brand. 
As the years rolled by Aston Matins has in their portfolio cars like: 
Vanquish S, Rapide S,  CC 100, Cygnet, Virage, One-77. 
What is a VIN check? And how can you conduct a VIN on an Aston Martin car?
A VIN check is a term used when describing a VIN query done using a VIN, when this query is made the data returned are usually exclusive to the vehicle that was queried. 
Hence when the Aston Martin VIN check has been performed it is expected that historical data about the vehicle be provided, Instant VIN Reports provide this information for all Aston Martin cars irrespective of the model. 
A VIN check, therefore, is of utmost importance to any who desires to buy a used vehicle, as this is what can help you escape the so-called 'buyer's remorse'. It is even more important to conduct a VIN check on luxury brands because they are usually costly either as brand-new cars or second-hand cars.
How to run an Aston Martin VIN check?
To run an Aston Martin VIN check, you will first need to find the Aston Martin Vehicle Identification Number (VIN) every vehicle has this unique identifier, it is usually a 17-digit alphanumeric code, although it may be less than 17 in classic vehicles.
Here are places where you can find your Aston Martin VIN number and in other vehicles: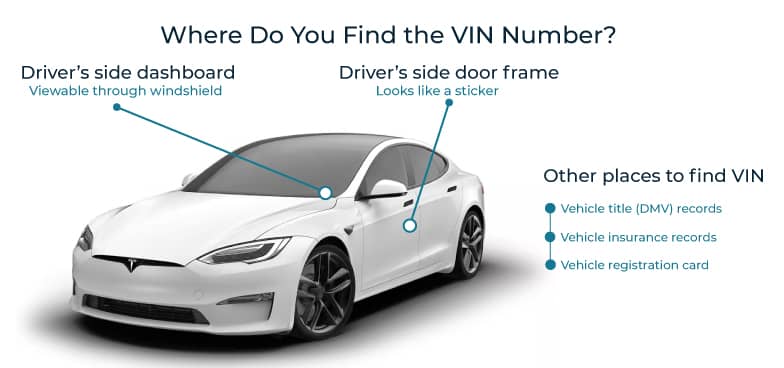 The windshield 

The dashboard 

The engine block 

The driver's door jamb
Apart from these places, you may find your VIN in documents that are related to the vehicle these documents may include; the vehicle title, Insurance papers, maintenance records, window stickers, etc. 
After you have obtained the VIN number follow these 3 simple steps to get your vehicle history report:
Visit instantvinreports.com

Input your VIN and other information

Click on "check VIN" 
This will take you to the checkout page where you can pay and view the full vehicle history report of the vehicle. 
Aston Martin Recall VIN check
Aston Martin recalls VIN check refers to an inquiry made using the VIN in other to understand the safety recall status of a car. 
A safety recall is usually carried out by manufacturers when they find out that a particular car or model(s) has a fault that poses threat to the safety of the car owner. Such vehicles or groups of vehicles are to be returned to the manufacturer, the manufacturer may buy such a  car back or repair the fault at no cost to the owner.
If you are planning on getting a luxury brand, such as Aston Martin it is of utmost importance that you run an Aston Martin Recall VIN check. 
To run a recall check, simply find your 17-digit VIN number and repeat the process for a VIN check, the detailed vehicle history obtained usually contains the recall information. 
Aston Martin VIN also reveals the specification of the vehicle, a knowledge of your vehicle's specification is an integral part of being safe on the road, this is because you will become even more conscious of your car's horsepower, the torque of the motor, the capacity of the weight and more.