As the owner of a Ford vehicle, if you want to carry out some repairs or upgrade some components then you need a build sheet. A build sheet is a very important document that makes your life much easier when it comes to getting vehicle specifications and other details. It tells you about the parts and equipment vehicle is being sold with also the MSRP and invoice price. In this article we will be looking at the ways you can get a Ford build sheet.
What is a Ford Build Sheet?
A Ford build sheet, also known as a window sticker is a document that provides information such as vehicle specifications, MSRP, safety and security features, interior, exterior and color options.
The build sheet also contains information about the vehicle's completed pre-delivery inspections during preparations for sale and is usually available in the owner's manual, under the passenger seat or the glove compartment. 
How do I get a Ford Build Sheet?
By using your VIN number. One of the ways you can get your Ford build sheet is by using the VIN number. The vehicle identification number is a unique number that is assigned to the vehicle and usually contains 17 characters (numbers and letters). The VIN is usually found in the lower-left corner of the dashboard, in front of the steering wheel.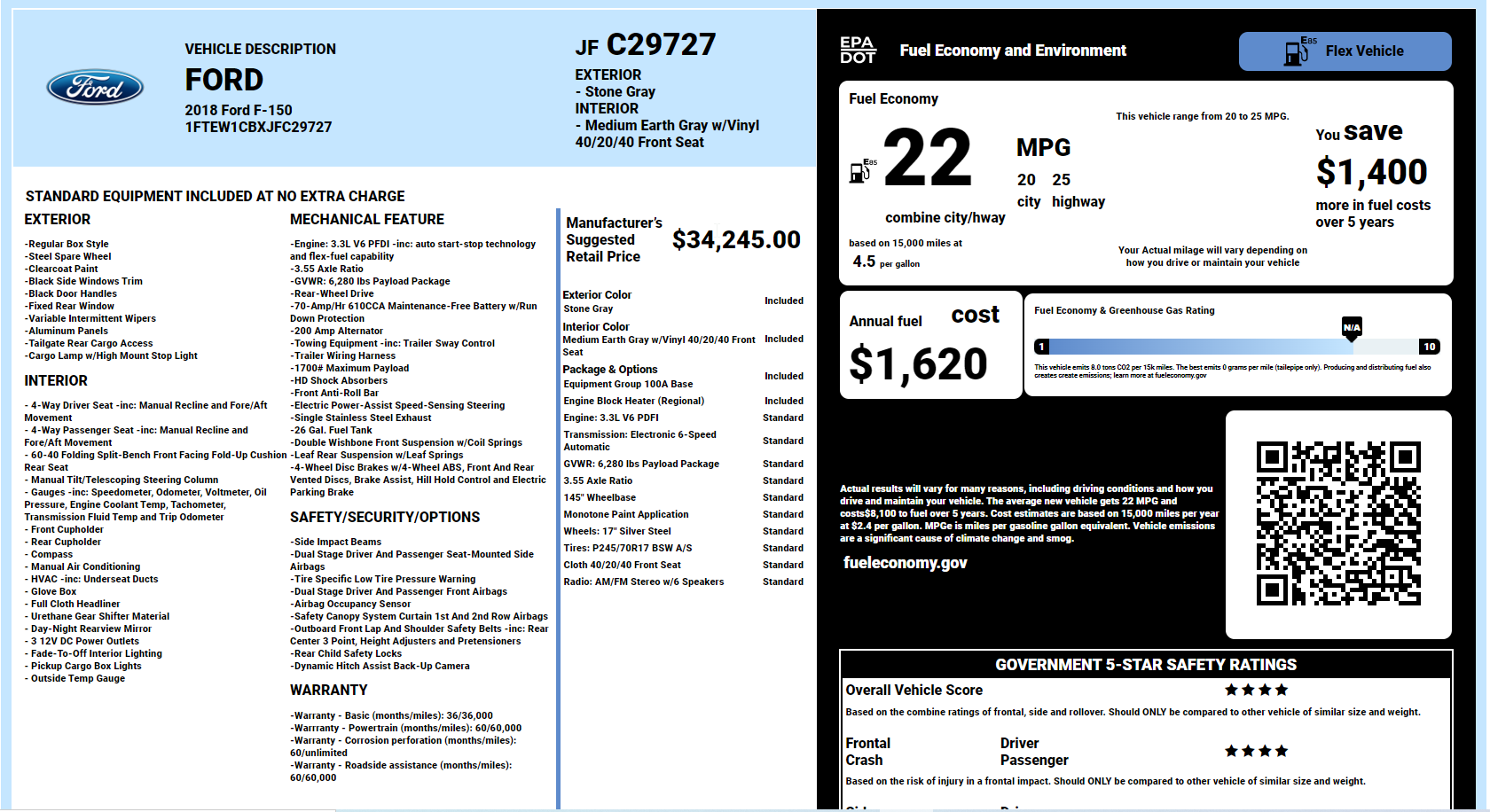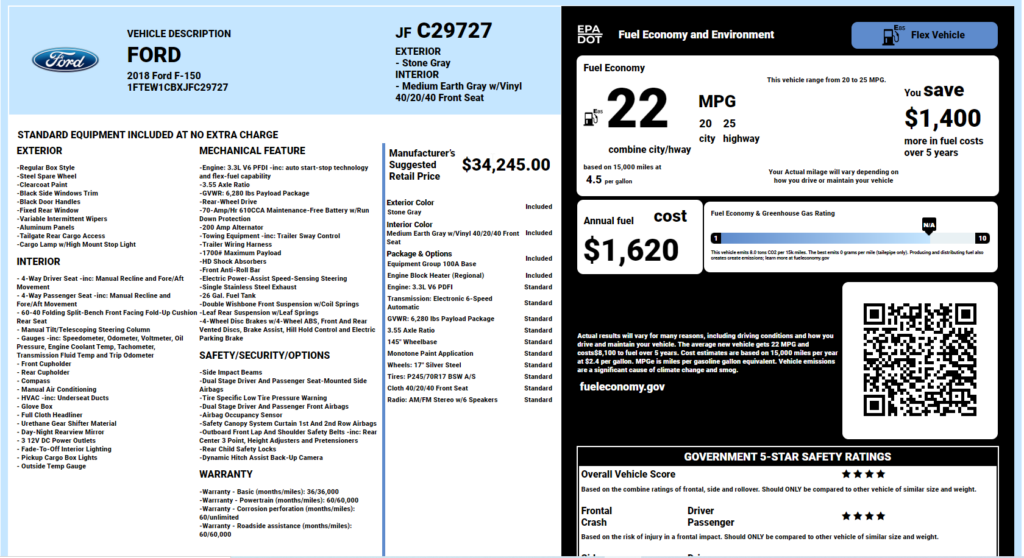 What does my Ford VIN number mean?
To understand what your Ford VIN means, you must have an idea of what the 17 characters represent, which are as follows:
First: Country of Origin (1, 3, or 4 = USA, 2 = Canada, 3 = Mexico, and the rest of the countries, the first letter of the country)

Second: Manufacturer 

Third: Vehicle Type

Fourth to Eight: Vehicle's Description (4DR, 4WD, SUV, etc.)

Ninth: Check Digit; not standardized as it requires a mathematical formula developed by the US DOT

Tenth: Model Year (B to Y (except I, O, U, and Q): 1981 to 2000; 1 to 9: 2001 to 2009; A to Z: 2010 to 2030

Eleventh: Ford's Specific Manufacturing Plant

Twelfth to Seventeenth: Production Sequence Number
For you to really understand, here's an example:
VIN: 1C4NJCBA9GD681479

Meaning: 1C: Made in the USA by Chrysler Jeep; 4: Compass; NJCBA: SUV, diesel engine; 9: Check; G: 2016; D: Belvidere; 681479: Unit's serial number
As complicated as this sounds, the great thing about the internet is that you can already decode your Ford's VIN with the help of free or paid VIN Lookup providers or decoders. Just enter the VIN and click search.
To find your ford build sheet by VIN, here are the steps to follow
Get your VIN number

Use our window stickers service and enter your VIN

Get your report and view your information
Benefits of using VIN in Finding Build Sheet
Using your vehicle VIN to get your build sheet is important because it is the only way to access complete information about its parts and components. Using your VIN number allows you to get information such as the size of the engine, the interior and exterior specifications, transmission and the factory options.

Lookup original manufacturing information. If you know your car's VIN numbers you can look up its original manufacturing information and all its details. Ford has the responsibility to place the VIN on their vehicles. This VIN code number is unique for your Ford car.
What other options do you have?
Another way to find the build sheet of your Ford vehicle is by visiting the Ford ETIS website. This is the official website for ford motors and you can easily get your build sheet from this website. With your VIN number head to this website and enter your code into the search box. The landing page of this site has a search box where you can enter the VIN number of your Ford vehicle.
Hopefully, if you do the right thing, you can get the build sheet of your particular Ford car. But some Ford vehicle owners have noticed that the options listings on the page were quite small and vague in the past few months.
Conclusion
Getting your ford build sheet is very easy. You need to have your VIN number with you for this to happen. With your VIN number, you can get reproduction of your build sheet using our window stickers service.