A few years ago instavin reports got acquired by KAR Global and due to some circumstances, the site expired and the business got closed. While this might sound like a disappointment, there is a better alternative for you.
Instantvinreports.com is a better and much more detailed alternative for vehicle history reports. In this article, we will be looking at a review of InstantVINreports.com and what makes them a much better option.
What is InstantVINReports.com?
InstantVINReports.com, founded in 2018 is one of the leading providers of  vehicle history reports, windows stickers and classic window stickers for dealers and consumers. They offer reports that are very interactive and detailed. Here are some of the information you get in their vehicle history report.
Odometer readings

Vehicle specifications

Record of accidents and salvage

Ownership history and service records

Auction history with 10 photos

Services and repair history

Branded title information

Mileage records

Loan and title check

Salvage title check

Title history and brand check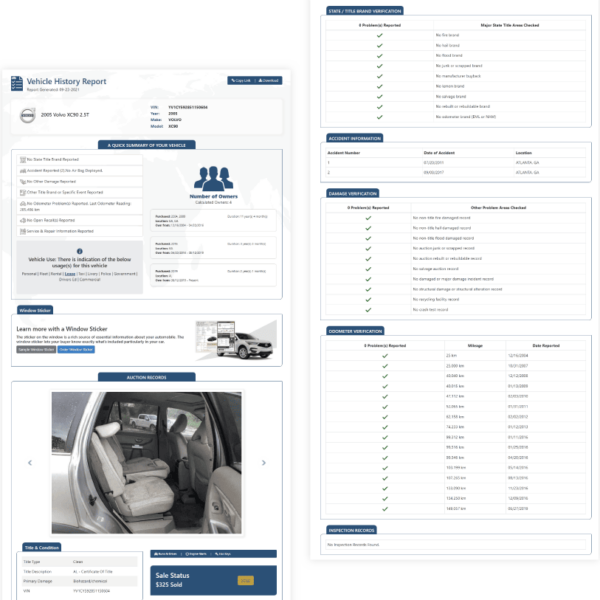 InstantVINReports.com Pricing
InstantVINReports provides vehicle history reports at a very cheap price compared to others out there.
There are 6 pricing plans available
$25 for 1 report

$35 for 2 reports

$60 for 5 reports

$100 for 10 reports

$500 for 25 reports

$900 for 50 reports
From pricing plans, you can see that you get huge discounts when you purchase more reports. The reports are readily available on mobile and smartphones, never expire and can be downloaded in PDF format.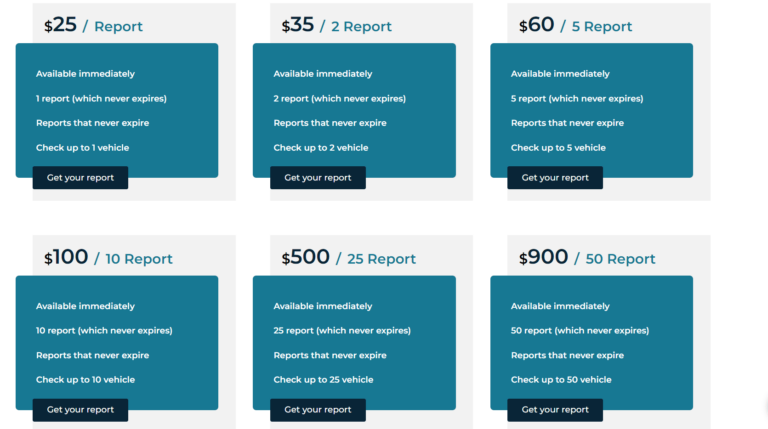 How does InstantVINReports.com pricing compare to competitors?
When buying a used car, you want to get the best value for your money. One way to do this is to ensure that the vehicle history report that you order contains the best and detailed information about the vehicle. InstantVINreports does that better than any other provider. Here are some of the key differences
More detailed information

Cheaper price

Auction records with photos

Estimated depreciation data

Packages and subscriptions with huge discounts

24/7 live chat support
InstantVINreports.com – Other Products & Features
Apart from providing the most detailed vehicle history reports available today, we also provide the following services.
Windows Stickers for all manufacturers including classic vehicles
We also provide reproduction window stickers for dealers, commercial customers and consumers. We are also the first in the industry to to launch a window sticker service for classic vehicles which will allow users to generate window stickers for antique vehicles in minutes.
The industry has a huge demand for classic vehicles and InstantVINreports is proud to offer this service.
There is a huge demand for window stickers for antique vehicles and we are proud to announce that we have this service covered.
We provide you with a reproduction of the original build sheet which contains information such as VIN-specific standard and factory installed options and packages, original MSRP, mileage and safety ratings, warranty information, with engine and transmission specifications. 
If you are a dealer, we also provide you with special dealership rates for credits or subscription packages for vehicle history reports and window stickers
VIN decoder
We also provide VIN decoder service which allows you to easily decode any VIN number and get accurate vehicle specifications. Our VIN decoding technology leverages AI and machine learning using state of the art technology.
We are proud to be the first in the industry with a mobile app that can decode and decipher VIN Numbers without any internet connection completely offline.
Some of the information you get with our vin decoder service includes detailed vehicle specifications covering year, make, model, trim, engine, body type and technical specifications.
Vin check
At InstantVINreports.com we also provide a VIN check service that allows you to check any VIN and get detailed information about the vehicle.
Our VIN check provides you with detailed information such as previous owners, recalls, accident history, title history, repair history and so much more.
License plate lookup
You can also check the status of any car simply by using our license plate lookup service. With this service you can get information such as title information, auction photos and history.
Vehicle recalls
With our vehicle recall service, you can easily learn about the recall history of your vehicle. Knowing the recall history of your vehicle is very important and with our recall service you are 100% guaranteed of getting accurate information as regards the recall history of your vehicle.
Conclusion
While you certainly cannot get instavin reports again, you are presented with a better alternative that provides you with detailed vehicle history reports at a very cheap price.
Also our reports are easily accessible on mobile and tablet devices and can be downloaded in PDF format.