Flood-Damaged cars - How to Spot and Avoid Flood-damaged cars?
Mother Nature sometimes decides to surprise us with various weather conditions. Floods are the most common of all weather-related natural disasters. According to the National Oceanographic and Atmospheric Association, floods cause more deaths and property damage than any other type of disaster or severe weather.
Every state in the U.S. is prone to flooding, even the dry ones. Floods destroy a lot of electrical equipment, and if they aren't destroyed, they would have been damaged. Once a car is flooded, many aspects of the vehicle may be damaged and some beyond repair. Thousands of cars are damaged by flooding every year. While you might think that those flood-damaged cars mostly end up in the junkyard, that's not always the case. It turns out that some of the flooded cars are being repaired and resold to car dealers in other parts of the country.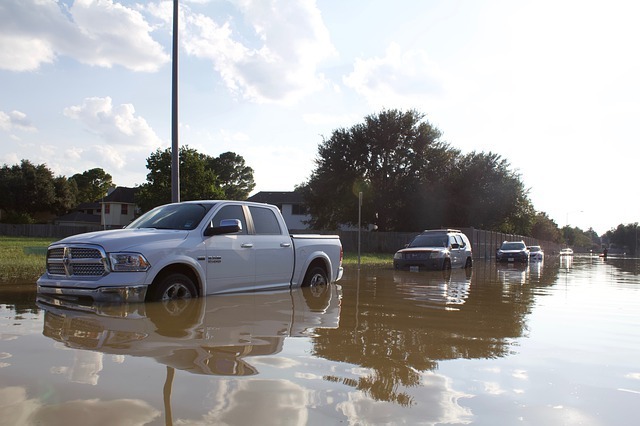 How does flooding impact a car?
There's not much to say here. If your vehicle is hit by floodwater, many problems can occur, from water in the engine to electronic malfunctions. 
Floods can damage a car's electronics, lubricants, mechanical systems, and safety features such as airbags and anti-lock brakes. Vehicles' engines can also be affected by flood damage. Today's cars are loaded with thousands of wires, relays, sensors, and computers. As you might have guessed, these parts are not designed to absorb water. That's not all. Flooded cars also get mold and mildew, which can trigger everything from allergic reactions to asthma attacks.
How to spot and avoid a flood-damaged car?
Water damage can be difficult to spot, but you should take the following steps and look for obvious signs.
Check the VIN to verify its history and past
Always run a VIN check and get the vehicle history report so you can view detailed documentation for your car. Get a vehicle history report based on the VIN number. This is the easiest way to tell if a car has been badly damaged by flooding. In addition to letting you know if your future car has been damaged by flooding, the vehicle History Report will give you the following information:
Previous owners 

Current location

Loan and Lien Records

Mileage Rollback

Title checks including salvage title 

Auction photos 

Accident history 

Vehicle specifications

Warranty status 

Safety Rating

Flood, Hail, and Fire Damage

Personal, commercial, or rental use verifications

Current market evaluation

Service and repair history 

Theft Records

Vehicle registration history

DMV Records
It is highly recommended to check all details from previous auctions, including vehicle photos. This allows you to check your vehicle for any type of damage, including flood damage, accidents, etc. Just enter the VIN number to check if the vehicle has previous auction details.
 Check the seat mounting bolts for any signs that they have been removed. To effectively dry the carpet, the seat must be removed, and possibly even replaced. If you notice a damp spot, try lifting the carpet in the trunk and inspecting the padding. Don't forget to check the carpet in the trunk as well. Water tends to collect in the trunk and even a thorough inspection might miss it. A brand new carpet on an older car can be another red flag. 
Test the equipment multiple times, including lights, wipers, turn signals, audio systems, heating, and air conditioning, to make sure they work properly. 
Be suspicious of air fresheners in the car and see if you can smell a musty or earthy smell. Some people compare the smell of mold to sweaty socks.
 Excessive rusting or corrosion
 Corrosion and rust are important when checking for water damage. Rust is natural, but a 2010 vehicle shouldn't have the rusting of 1995. At the same time, corrosion can eat away at the car's materials, even after it dries. Always check the exterior and interior for rust and corrosion. Check hinges, screws, springs, latches, and brackets that may indicate prolonged exposure to water. Use a mirror to check the springs under the sea as well.
Fogging in Headlamps and Taillights
While sellers want to cover up water spots on their cars, some areas won't dry out. There may still be visible water lines on the lens or reflector. Check headlights, taillights, and exterior mirrors. Even if the car is partially flooded, these lights will show signs of it.
When a car is submerged in water, the water may carry various debris such as sand, mud and grass. Check for hard-to-clean areas, such as the gap between panels in the trunk and under the hood, for mud and grime. After the water fell, many sediments remained and it's challenging to remove them all. If you spot any type of dirt, grass, or other debris, your potential purchase may have been sitting in the water for some time.
 Check the car yourself. Although you're not an expert, but you can test for some signs of flood damage before paying for a professional inspection. Listen to the strange sound from the igniter. Turn on the windshield wipers and air conditioner to make sure they are working properly. Finally, check the radio. If the system looks new in terms of the age of a car, it may have been replaced due to water damage
Have your car inspected by a professional you trust before buying. Experts and mechanics can usually identify water damage within a few minutes. If suspicious, they can do a more thorough inspection and check that the hidden electrical parts are genuine. Although you'll have to pay for it, it's worth it if it prevents you from having serious problems with your purchases later on.
The flood damage brand must remain on the title for life. Many scammers are involved in title washing because vehicle titles can be marked with different terms in different states. Suppose you have a flood-damaged car in Alabama. You seem to be able to erase that history by jumping the title into a state where it doesn't recognize the brand. Thankfully, this information is still clearly visible in VIN checks and vehicle accident reports run using the car's VIN number.
Should you buy a flood-damaged car?
Aesthetically, flood-damaged cars can be washed and restored to a very high standard, and in many cases, the car looks almost new. However, that doesn't mean all is well with the car's core mechanics. Buying and selling a car that has been damaged by flooding often involves risk. Repairing a car that is completely submerged in water during a flood can be more expensive than buying a new car. To avoid falling down that rabbit hole, have a mechanic observe the vehicle and tell you how much damage the car has suffered. Then you can decide whether to fix the damage or calculate and buy a new car.